BY ANA RUIZ IN COLLABORATION WITH RODRIGO RIVERO LAKE
The Mexican of this month goes to….Rodrigo Rivero Lake! He is a recognized antiquarian who has devoted his entire life to collecting art around the world. He devotes his days to finding poorly studied pieces that have been lost to history and saving them from destruction by integrating them in museums or private collections and ensuring they remain in good hands. Jaunt Mexico is happy to share his story and the importance of an evolving heritage with you.
Rodrigo has devoted his life to art because even from a young age he pursued that spark of curiosity in his life, he wondered about the history of every object he found. Rodrigo's childhood was full of bike rides that would lead him to street corners brimming with astonishing antiques, and museum visits with his father. Art has always been part of his life. He even spent some time in the cradle of artistic expression, Italy, discovering new unknown antiques that would keep him awake at night.
Rodrigo often asked himself how something so simple as a fork could have a great history behind it. It's wonderful to think that something so common nowadays didn't even exist thousands of years ago, and to marvel at how human beings have shaped materials to facilitate daily life. Objects are being transformed and evolved according to the current world and our needs, the important thing is to recognize this transformation has not always existed.
If Rodrigo Rivero Lake had to name a favorite kind of art, it would be Classic Art because it is the maximum expression of humankind's ability to transmit the creativity that compensates our existence. However, he would be reluctant to label any individual work of art as his favorite because he thinks there are too many amazing things to choose from. He loves being able to visit the many masterpieces in museums. Amongst the world's vestiges, he finds Egyptian art, Roman ruins, and architectural elements such as cathedrals, of special interest.
He mentions that beyond the material elements that are part of a culture lies the magic they bring, he could spend hours on the floor admiring and contemplating the art in every detail. Every era brings something to the table, from tribal art, the evolution of jewelry, to armors with hundreds of heroic stories, so it can be shocking to learn some pieces are taken for granted or left out. That's why we need to have our hearts open to capturing the wonder of each fragment of history around the world, and the interest to discover them within the cradle of cultures. We have the responsibility to take care of them and appreciate them for what they really are.
Rodrigo Rivero Lake is well known for his majestic international anecdotes, he has millions of them. He has done many things to preserve iconic pieces of art, even left his comfort zone for it. Once he disguised himself as a priest to get through customs! His need to fulfill the role of caretaker and love for art has given him many opportunities to be part of legendary stories.
Throughout his jaunts, he has often come upon devalued objects that go unnoticed in stores, markets, or even houses. Rodrigo considers traveling as a change of air that welcomes us to see the differences among us that make us unique— even the little things such as different types of walking. The card up his sleeve when assessing the importance and age of any artwork he encounters is research. Although he thinks a quick search on our phones can give a general idea, he thinks that knowledge and experience are core to understanding the true value of an object and determining its proper timeline.
Rodrigo Rivero Lake invites you to our Jaunt Mexico experience to feel the pleasure of sharing the sensitivity to the art he has created over the years. He believes that "we're not here to brag about art, we're here to share it." Through this experience, Rodrigo wants to pass on his passion for preserving history. For him, this is not about business, it is about sharing his experience with others who also love and see the value of history and art.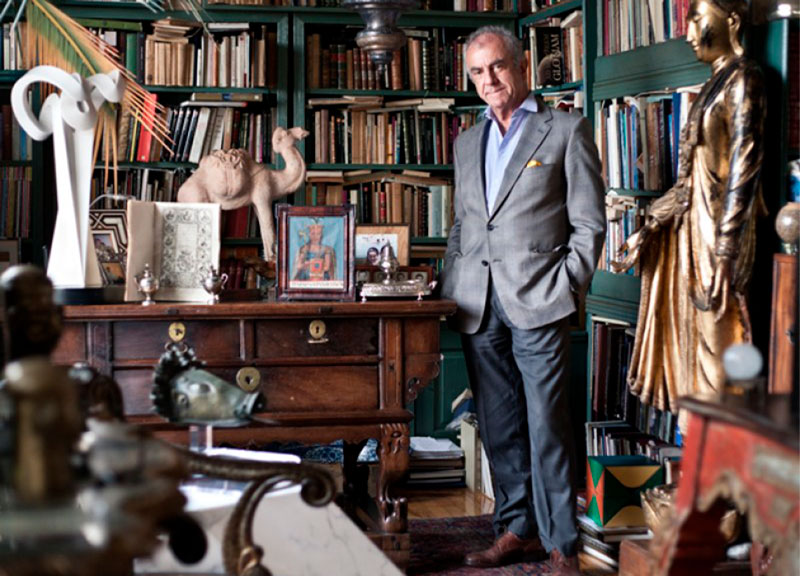 Last but not least, as in every Jaunt Mexico interview, we asked Rodrigo for his favorite Mexican destination. He had trouble finding the answer, he said "there's too much to see in this country for one lifetime", but if he had to choose, it would be the waterfalls in La Huasteca Potosina and Chiapas, where incredible and unique communities are sheltered. He also has a strong bond with Mexico City's Zócalo, for every door there has a different story and the convents and haciendas have walls that can tell many stories. He also shared may anecdotes in those streets.
We will be happy to be part of your jaunt discovering off beaten paths. Add this experience to your wishlist and let yourself be astonished with masterpieces and a good talk.